This release will contain a few bug fixes and the following key enhancements:
Feature a Page or Site
Now you can feature a Task Center, Page, or Site in addition to featuring a Task in the carousel or dynamic category. To use this functionality, first, check the setting by going to the Advanced menu >Settings>Featured >Featured Display and choose "Carousel" or "Dynamic Category" from the dropdown.
To feature a Task Center, Page, or Site, click on the Task menu and then Featured. Click on the +New Featured Item and choose which item you want to feature. All three can be featured from their respective list pages.

"Log in Required" Checkbox Option for Task Launch
Require users to log in before the Task launches by checking the box on the Task Edit page. This feature is also available on the Bulk Edit page.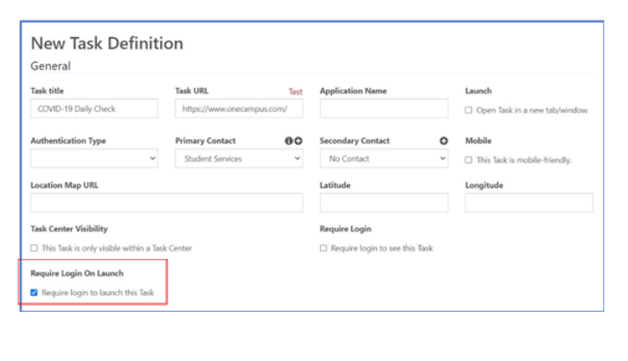 "Log in Required" Checkbox Option for Announcements
Create Announcements only for logged-in users by checking the box "Require login to see this announcement." This feature applies to both Task/Task Center announcements and global announcements.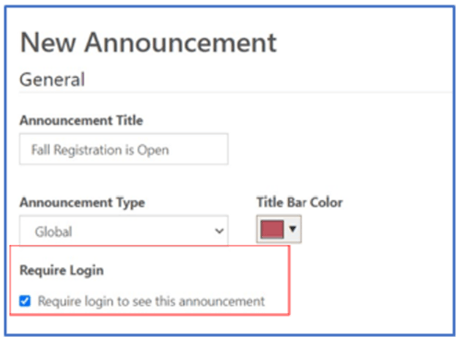 JSON URL Created inside of Task/Task Center edit page or in Active Content Publishing Section
Active Content can now be created inside of OneCampus. Go to the Task or Task Center edit page and scroll to the Active Content section. Click on the "plus"/"+" sign next to the "Active Content Public URL"

The Active Content modal will show up and add the text displayed in the Active Content area on the Task/Task Center tiles. By default, the Active Content allows up to 5 "pages," with each page holding up to six "lines." The "lines" are delimited by a new line. Leaving a line empty equates to a new page. The URL is created by using a unique key that cannot be changed. Once an active content URL is created, it's content can be edited from within the Task/Task Center edit page or from the new Active Content module under the Advanced section.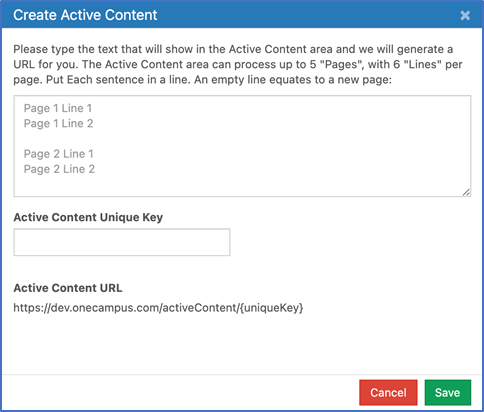 Alphabetize Category Search Results Option
Your users can find a service easily by providing their Category search results in alphabetical order. Go to Filter Settings>Categories>New Category (or Edit an existing Category). Check the box to Order tiles in alphabetical order when browsing this category.

Rich Text Editor for Task Descriptions
The Rich Text Editor in Pages/Sites is now available for Task descriptions. The editor will allow publishers/admins to format the description with more tools, such as text alignments, fonts, sizes, colors, images, etc.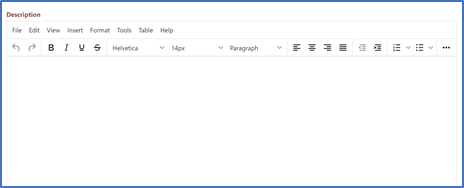 Thank you to everyone who submitted support tickets with issues, enhancement ideas, and requests. We value all of your feedback and are committed to maintaining OneCampus as a world-class software.