A fresh new look for your OneCampus portal
Search First Freedom
OneCampus is well known for our searchable service discovery offering users a quick and easy method to see more from multiple school websites. We have enhanced the search bar appearance and layout of the top section of the main page. Offering a Search, Click, Done approach provides users a quick and efficient Search First Freedom.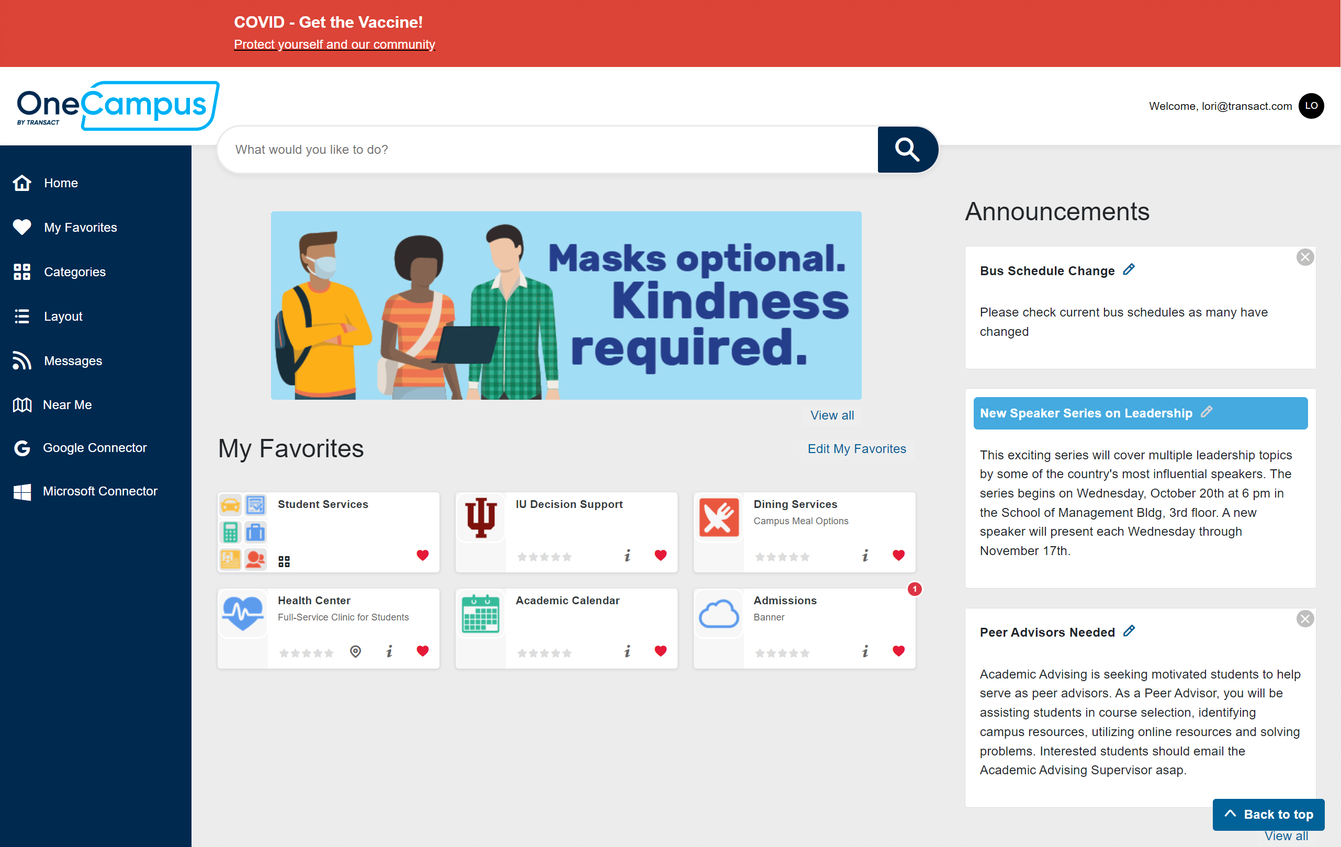 Features that are discontinued in this release are:
"Featured" carousel (new Announcement features placement options without rotation)

Selecting Roles Applies Without Leaving Dropdown 

UI theming (only one theme now)

Global Announcements indicator badge 

Help Overlay

Favorite Collections 

Ability to add bookmarks to favorite collections 
User Dropdown

Display
The User Dropdown prominently shows in the upper right corner. The user signs in and can view Preferences, Campus & Roles, Send Feedback, and Announcements.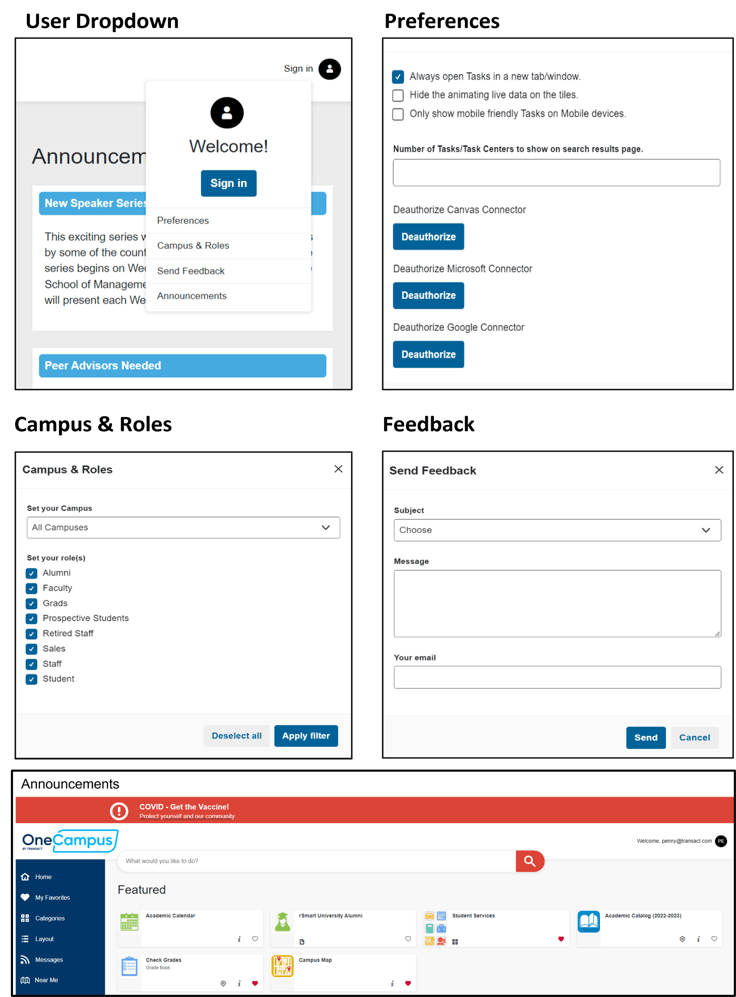 Enhanced Main Page
Our user interface is updated to provide a modern look and feel that users will easily transition to with little instruction. The layout includes three columns with a Navigation Menu on the left. Tasks/Task Centers in the center, and Announcements on the right. The header, footer, and CSS are still customizable for your branding.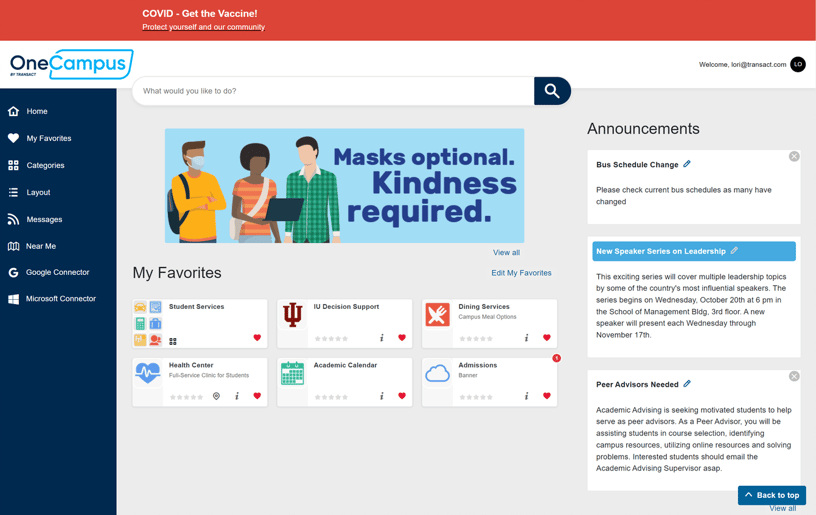 The Main Page Navigation Menu on the left lists quick-to-find modules. These modules include Home, My Favorites, Categories, Layout (Admin chosen in Advanced Settings), Messages by RSS feed, Near Me (Location), and Google and Microsoft Connectors. Additional connectors are available for easy access, like the Calendar Connector (coming soon).
The center section displays all the Task and Task Center tiles for services, including Pinned Sections and the Connector sections. Many schools use the Most Popular Pinned Section, which continues to populate over seven days as the default.
Global Announcements
Dismissible Global Announcements can be positioned on the right side or in the carousel located in the center at the top. The new Announcement module offers Global Announcements as an image or text. Note: The rotating carousel is no longer available due to changes in accessibility recommendations.

Featured Tasks, Task Centers, Pages & Sites
The Featured section pins featured Tasks, Task Centers, Pages, and Sites.

Mobile Version
The OneCampus mobile version displays the Navigation Menu and the User Profile Dropdown in the upper right-hand corner. Task tiles are shown in the middle, and the Announcements are at the top.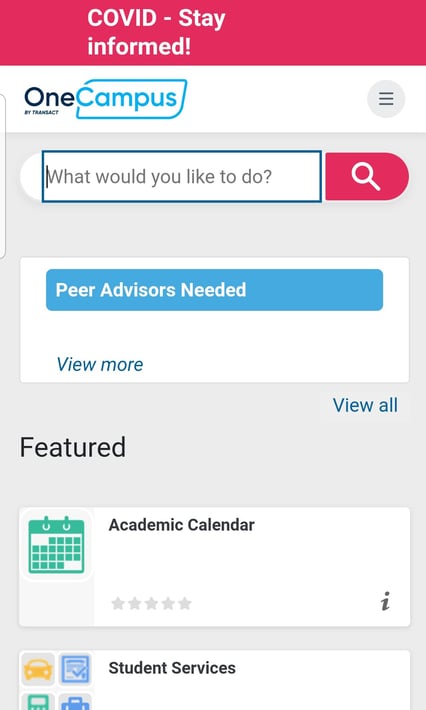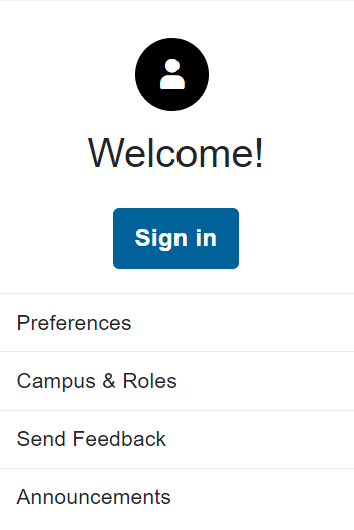 Publishing Module
The OneCampus Publishing module has been improved with a new look as well. Although not yet completed, some features have been updated, like the Announcements page. Notice the Navigation Menu has moved to the top with Tasks, Settings, Advanced, and Report sections. A Home button takes you to the front Main page. The transition between the former and new Publishing modules is seamless.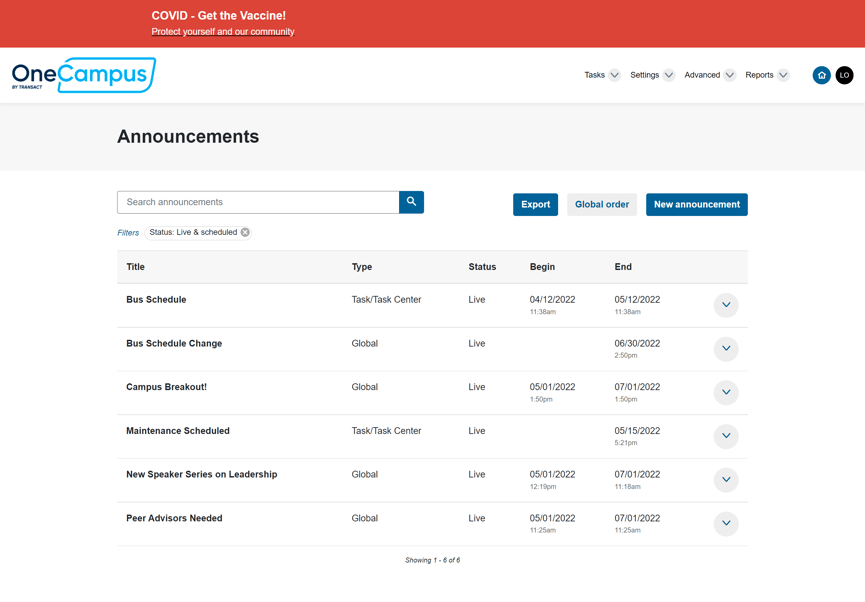 Thank you to everyone who submitted support tickets with issues, enhancement ideas, and requests. We value all of your feedback and are committed to maintaining OneCampus as a world-class software.