This fall, campuses sought assistance with compliance on COVID-19 vaccination policies so they could fully re-open safely.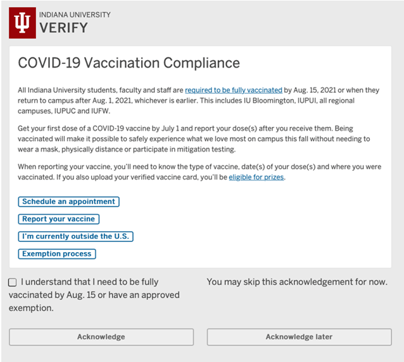 Compliance with this type of policy is handled differently across departments, and different campuses and departments don't always use the same method to capture the necessary verifications.


Communication across a large campus, especially when asking students, staff, and faculty to act on a request, can be a demanding venture at the best of times. With so much uncertainty about the pandemic and asking for personal information such as vaccination status, campus stakeholders using CampusConfirm could complete this vital task quickly and securely with minimum implementation.


CampusConfirm empowers administrative processes
Every year, universities and colleges must request their students, staff, and faculty confirm/update personal information such as:
Emergency Contact

Home Address

Citizenship Status Verification
Collecting this data with CampusConfirm simplifies the process of notifying and collecting updates from campus stakeholders.

Often, multiple tries are necessary to capture the attention of the campus community. CampusConfirm is less work to implement and provides better results than the traditional email outreach. Email is still a powerful channel, but not necessarily the best way for campuses stakeholders to see the request and reply quickly. People tend to skim emails or put off the request, resulting in multiple emails and reminders oversight. Campuses also run the risk of having their stakeholders ignore emails for fear they are a phishing scheme.


Collect data, report, and repeat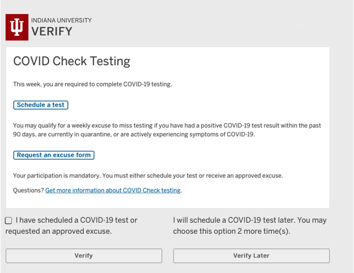 Administrative users can set up annual recurrences so their campus community can receive notifications without extra work for IT departments. CampusConfirm interrupts someone's portal login process with a notice to verify, review or update essential pieces of information.


When verification is complete, the notice goes away, and the user can continue to the resource or page they are searching.


IT leaders on campus will also appreciate the following CampusConfirm features:
Integrates with the single sign-on process already in use on campus

Web-based configuration – no programming required

Create custom instructions and messages

Scheduling and annual recurrence

Publish to specific populations - staff, students, faculty – anyone

Developed for higher education

by

higher education
"We wanted to have a way that we could essentially review, and update required data annually. For example, we need students, faculty, and staff to review and update their emergency contact information each year."
-Eric Wesfall, Software Architect, Indiana University


CampusConfirm is the latest solution to OneCampus' modern campus portal that connects the campus community to relevant content, resources, and alerts.


Become a data compliance wizard - contact OneCampus today for a demonstration.