This release will contain bug fixes, accessibility improvements, and the following key enhancements:
Administrators/Publishers:
All Users:
Access the new Active Content Connector
Simplified Active Content is now available within the Connectors module. Enter one or more RSS feed URL's and save. It will now show up on the task and task center tiles. The RSS feeds get checked every 10 minutes, so wait up to 10 minutes before confirming the feed.
View Task/Task Center URL redirect history
Within the task/task center list, when a publisher changes the campus that the task/task center is assigned to, the campus unique key will be reflected in the URL, and the previously used URL will redirect to use the default URL containing the current campus unique key reference.
If you wish to prevent previously used URLs from redirecting to the current and default URL for this task/task center, you will delete them from the Historical URL section. This will also allow this task unique key to be used for other tasks on other campuses.
Experience the screen action redesign
We're doing some spring cleaning and have added an Actions button within all modules to include a dropdown of multiple options you may want to perform within different lists such as; Task, Announcements, Pinned sections, etc. Now you can focus on the important material when modifying current data. (Less buttons to clutter up the screen!)
Cherry-pick tasks for the OneCampus app
For those schools using the OneCampus app, you can now choose a separate list of tasks/ task centers that appear in the app vs. what appears on desktop. Power to the people!
Edit modules more easily with improved error reporting
When editing within a module, the page will now automatically scroll to the place of missing information within a required field before you are able to save correctly.
Filter Pinned Sections by Roles/Campuses
Based on the Advanced Settings module, admins can now apply role and campus filters within Pinned Sections. Your home page doesn't have to remain static anymore. Filtering just got a whole lot easier.
Enjoy Accessibility improvements
Allow for the main page to scale based on

the

browser

,

with the ability to zoom in and zoom out

.

Targeted Notifications are now accessible through a screen reader

Many other fixes based on tools and real user feedback
The rSmart team is always working with accessibility teams to make sure we maintain AA rating!
Experience enhancements from the RSS Connector
With multiple functions across campus, from student to staff, end users only want to see information that pertains to them. So, within the RSS connector, we've added a feature to filter RSS feeds for specific roles and/or campuses.
Rearrange sections on the main page
Your students are looking for more control over how data is presented to them. After all, our goal is to simplify campus life and the ease in which users search. Within the Advanced Settings module, admins can now turn on or off the User Order Main Page Layout.
Once this setting is turned on, users have the ability to rearrange the existing main page layout, as well as reset this to the default.
*Per this release, this feature is only available when the Elemental theme is selected in Visual Styles.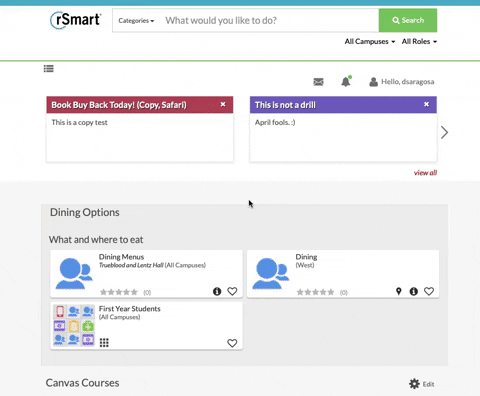 We encourage all OneCampus Administrators and Publishers to submit your ideas for product enhancements and connectors. Special thanks to the following schools for submitting requests in this OneCampus release:
Indiana University, Kwantlen Polytechnic University, Oberlin College, Northeast Iowa Community College, North Shore Community College, St. Edward's University, University of Delaware, University of Michigan, University of Pittsburgh, and Widener University