Student engagement is a multi-faceted measurement of a student's attention, level of interaction, motivation, and interest shown when learning or being taught. It's essential in how institutions foster positive behaviors, increase achievements, and create a sense of belonging for all students. Student engagement is also a component of various federal funding opportunities, like the Student Support and Academic Enrichment Grants.
In the webinar, Setting Students Up for Success, Ryan Vallow (Indiana University's Lead Business Analyst) explains how to leverage technology to increase student engagement and make campus resources available in a user-friendly portal.
Before diving into Vallow's five key takeaways, it's important to understand what a student portal is and how student engagement can help universities create better online resources.


What Is a Student Portal?
A student portal should provide an engaging student experience through an online hub that supplies resources, applications, information, services, and more. OneCampus, for instance, is a cloud-based, search-first portal that connects students, faculty, and staff to a single location for all your campus resources. To better understand how a student portal works, watch the short video below:
An AI-driven student portal has many benefits for universities to utilize, including:
A single point of access to all campus resources

Configurable hybrid learning environments
Real-time user feedback and mobile access

Customizable, saving IT time (RESTful API)
Let's look at a real-life example to give you a better idea of how useful an online portal is to universities.


How Indiana University Utilized Engagement to Build a Student Portal
For context, Indiana University (IU) has six regional campuses, over 100,000 students, and 24,000+ faculty and staff. So, Vallow and team had a lot to account for when considering the wide range of users that they needed to appease when creating a central resource hub.
Vallow shares that IU was looking for "a process or product that helps students, staff, and facility throughout their entire lifecycle." Their previous system was "just a bunch of links" and it was hard for individuals new to the university to access campus resources. So, they set out to find a solution that:
Engaged students

Helped with retention

Housed all campus resources
Below, Vallow shares how IU engaged students and utilized their feedback to build the ideal student portal.


5 Ways Engagement Can Improve Your Student Portal
In the webinar, Vallow explains how he used five student engagement strategies to create a central resource portal for Indiana University.
1. Student-to-Student Interactions



When IU released its annual VOICE report, the biggest issue they found among students was the disconnect between the campus' different platforms, websites, etc. So, Vallow and team collectively brainstormed how they could get everyone to go through one system. They wanted to create a "Google-esque" resource that supported students looking for quick answers and supplied all the available campus resources.
To gain data-driven insights, IU launched a student outreach project to collect feedback on their students' biggest needs and pain points with the current system. After setting up student-run booths around the campus, Vallow quickly discovered that IU students played a key role in their IT initiatives during the early stages of development. Students engaging other students was the best way to collect honest answers to questions like:
How do you check your grades?

Is the current system easy to use?

How do you schedule your classes?

When do you encounter a problem?
After collecting all the feedback, IU launched One.IU, an online student portal optimized by student-to-student interactions.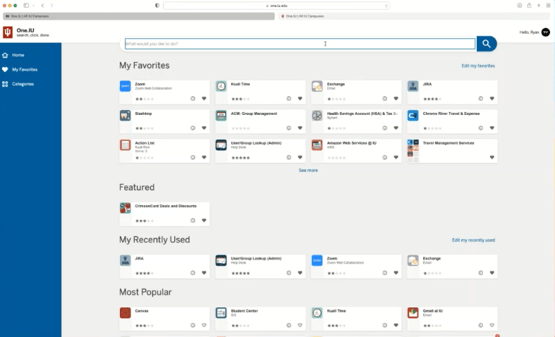 Photo Caption: Users can easily search for any app and click to launch it directly from One.IU

According to the academic article, Emergency Online Learning in Low-Resource Settings: Effective Student Engagement Strategies, "Student–student interaction is viewed as a major element of student engagement, both online and offline." It also improves problem-solving and critical thinking skills and is a great way to foster a collaborative campus environment.
Undoubtedly, student-to-student interactions stand out as an essential engagement strategy for gathering feedback and informing students of the technological resources available on campus.
2. Student Lifecycle Management
Student lifecycle management (SLM) is a data-driven approach that helps manage student success through their entire journey from admission to alumni. It's important to note that there's a huge variation in how institutions handle SLM. Educational institutions may manage communication and relationships with students in a variety of ways, including:
Face-to-face interactions

Virtual learning environments

Email notifications

SMS text messaging

Written or telephone contact
Generally, students appreciate a variety of resources and communication channels available on campus. This does not mean that your university needs numerous communication channels to accommodate each student's preference. Instead, you can use a student-to-student engagement strategy to collect campus feedback on which communication channel they prefer. Then, you can select the top 2-3 channels and focus on optimizing them for the entire campus. This is a great way to collect and utilize data to manage growth opportunities within the student lifecycle.
Efficient student lifecycle management is essential for educational institutions, especially with high competition for new students. As stated in a JISC study, "many are trying to differentiate themselves on the quality of their service, education and support provided to students throughout the full lifecycle of their relationship from initial contact to graduation and beyond."
A student's willingness to recommend an educational institution to others increases when the SLM in the university is well managed. This is one reason why IU decided to partner with OneCampus and create a student portal to manage the entire student lifecycle and drive success for recruitment, campus life, and alumni.
3.
Feedback Loop
A feedback loop is the process in which a system's outputs are circled back and used as inputs for future operations. In education, this could mean using student feedback (the outputs of a service or resource) to create a better campus experience.
So, Vallow focused on designing a system that allows users to give feedback in real time, at any point throughout their experience. For IU, this meant adding a 1-5 rating system for students to review each application or service provided in the One.IU portal. Students can even leave detailed comments within each review as well.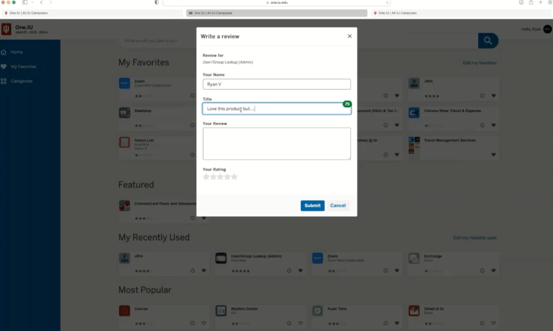 Photo Caption: With One.IU, students can leave a 1-5 star rating on each application or campus service.


Not only does it consistently engage students, but it also allows the portal stakeholder to get real-time feedback so they can quickly improve their app or service. The community is self-sufficient and resolves its own issues. For instance, if a URL is no longer working, a user can click 'send feedback' and leave a message flagging the disabled URL. This feedback goes directly to administrators and allows them to keep the student portal updated in real time.
Implementing a rating system to create a feedback loop is an excellent way to keep your student portal user-friendly and updated.
4. Champion Model
According to Vallow, the champion model is one of the best methods to engage students with the biggest return. The champion model involves finding key champions within your institution and giving them the tools and resources to tell others about your portal. For instance, one person tells two, four share with eight, and so on.
Over time, word of mouth takes over and engagement spreads from one person to the next.
"We spent some resources on additional marketing and management, but that was in the early stages of implementation," Vallow explains. "Today, we have zero marketing dollars when it comes to advertising and the use of OneCampus. It is just accepted and believed to be the funnel and access point for all of our services."
Your champions will establish the student portal as the standard for how to access university resources.
5. Google-like Experience
With traditional portal models, the user experience is driven by having to complete a training to understand how to use the system. Vallow wanted a simple, easy-to-use system based on how students engage with information today.
So, IU decided that with their new system, they wanted to create a "Google-like" experience for their students, facility, and staff.
"When it came to developing a product like OneCampus," Vallow begins, "it was quickly normalized by users how they find information in their everyday lives; they talk to Siri, Alexa, Google." As a result, IU set up an intuitive student portal that's optimized for quick search capabilities.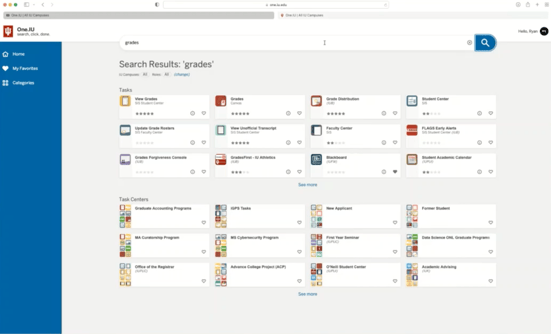 Photo Caption: With One.IU, students can use the search feature to access grades and explore related services quickly.


With One.IU, students can use the search feature to check their grades, schedule, and campus announcements. Staff can also use the portal to review their PTO, health benefits, and more. Ultimately, OneCampus connects faculty, students, and staff to all available campus resources within a single platform.
Creating a Google-like experience with an accessible search bar will help users easily navigate the student portal.


Unify Your University with OneCampus
OneCampus was built by the higher Ed community, for the higher Ed community. This is one reason why IU was successful in implementing an online, mobile, student portal that:
Helps support the needs of higher education

Unifies departments and resources with a search portal

Distributes publishing capabilities to lighten load on IT

Has one central platform for communication and access

Supports a blended learning model
Interested in learning more about creating a student portal with OneCampus? Schedule a demonstration with one of our team members today.
Citations:
Chambers, Delyth, and Alan Paull. "Landscape study of student lifecycle relationship management." JISC Landscape Study of SRM, United Kingdom (2008).
Abou-Khalil, Victoria, Samar Helou, Eliane Khalifé, MeiRong Alice Chen, Rwitajit Majumdar, and Hiroaki Ogata. 2021. "Emergency Online Learning in Low-Resource Settings: Effective Student Engagement Strategies" Education Sciences 11, no. 1: 24. https://doi.org/10.3390/educsci11010024