In ancient, pre-Internet times, the classified ads in the back of your local newspaper were the place to go if you wanted to purchase a used car, appliance, or even look at homes on the market. Those days ended as online marketplaces popped up everywhere. Now, you can find almost anything with a few clicks of your mouse.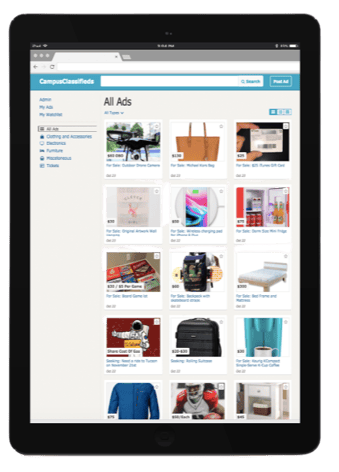 Colleges and universities are an active marketplace, with furniture, books, and day-to-day items such as clothing and more being sold, purchased, and traded. Obviously, the ability of predators to target and scam students is high. IT departments can support campus security with a secure, authenticated marketplace like CampusClassifieds.
Most people have made a fast and convenient purchase online through Craigslist or a similar online marketplace. While this can be tempting, safety becomes a concern when you are contacting and meeting a stranger to purchase an item of questionable value. The same holds true if you are moving and place an ad on the internet to get sell items from your residence -- you are essentially inviting anyone with internet access into your private home to negotiate a sale of your belongings.
It doesn't take a doctoral student of criminology to understand the increased risks involved when buying or selling things online that involve meeting up with strangers. More than 100 murders have been linked to one of the most popular online marketplaces. This is the worst-case scenario, for sure, but imagine all the other crimes that have occurred because of this practice.

CampusClassifieds in OneCampus by rSmart provides students, faculty, and staff with a safe and intuitive environment to buy and sell approved items. With a "classifieds"- type interface like Craigslist, students can conveniently purchase and sell non-commercial things from registered users on a familiar platform design.
Mobile-first app that allows ease of use
Security-enhanced through authenticated users and groups
Trusted interface by controlling access to Safe Marketplace
Non-commercial and approved items provide users
Curate a list of trusted groups to help protect users
OneCampus is a cloud-based service discovery search engine created by the higher ed community to be everything portals are not: simple to implement and manage, secure, infinitely scalable, and available on all devices at any time.
Learn how Safe Marketplace can make buying and selling items like textbooks, furniture, tutoring services, and electronics safe and convenient at your institution.

Find out how OneCampus can connect your higher education community with a simplified service gateway platform, eliminating the need for multiple portals.